About Highland Farm
Grass Roots Beef is produced on the pastures of 140 rolling acres of Highland Farm in south-western Ontario near Mount Forest. Highland Farm uses sustainable and ecological practices to produce our beef.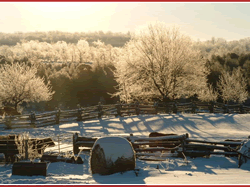 The Canadian Galloway cattle raised on Highland Farm eat only the grass they graze in the pastures during the growing season and our own farm-grown hay during the winter months.
The cattle drink water from the same well as the family farm, which is pumped out to each of the pastures. When it is time for the animals to "go to meat", they are trucked in a low stress environment to a local abattoir which is only about 30 minutes from the farm. The beef is dry aged for 14 days to maximize the nutrition, flavour and tenderness. The first crop of Grass Roots Beef was produced in the fall of 2002. Since that time, all of our beef is pre-ordered by our customers.