About Hillview Farm
Grass Roots Beef is produced on the pastures of 100 rolling acres of family-owned Hillview Farm in south-western Ontario near Mount Forest. Dennis Starkey, owner/operator purchased the farm in 1996 after a career in education. Stockman Grass Farmer publisher and "grass guru" Allan Nation claims that the unfair advantage of such new farmers is that they don't have to unlearn all the commonly held wisdom of the last several generations of livestock farmers.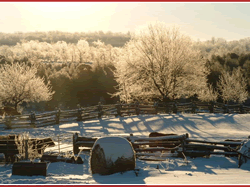 The Canadian Galloway cattle raised on Hillview Farm eat only the grass they graze in the pastures during the growing season and our own farm-grown hay during the winter months. Local life-long farmers have been known to comment about Hillview Farm, "You must be doing something right, it's green like a farm again." "I know nothing other than low-stress management of cattle," says Dennis, "they come running when I call, hoping to get a scratch behind the ear and be led to new grass."
The cattle drink water from the same well as the family farm, which is pumped out to each of the pastures by the farm pressure system. When it is time for the animals to "go to meat", they are trucked in a low stress environment to a local abattoir which is only about 20 minutes from the farm. The beef is dry aged for 21 days to maximize the nutrition, flavour and tenderness. The first Grass Roots Beef was produced in the fall of 2002 and was all pre-ordered by individual families through word-of-mouth advertising. Customers are invited to pick up their order at the farm, giving them an opportunity to walk the pastures, see the cattle and enjoy the peacefulness and healthy environment in which their beef has been raised.